The New Shape Of Spin
Author: Yonex.com Date Posted:22 September 2018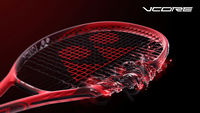 Yonex is proud to launch the highest-spin tennis racquet in company history – the new VCORE — from early September 2018. The game of tennis is evolving rapidly, and today's players need to be able to hit penetrating, high-trajectory spin balls in order to turn defense into offense. To further build on the success of Denis Shapovalov and Caroline Garcia's VCORE SV racquet, Yonex developed new technology and key upgrades for the VCORE with the "Aero Trench," "Liner Tech," and an improved and even more spin-friendly, aerodynamic frame.
By researching top athletes' play, Yonex developed a unique swing analysis system to identify ways in which to maximize spin potential. Employed in key areas of the racquet, enhanced Aero Fins and the new Aero Trenchcombine to produce a fast, aerodynamic racquet, allowing for easy access to incredible spin.
Further adding to the new VCORE's spin potential, exclusive Liner Techgrommets elongate the outer mains to promote string movement and snapback, allowing players to apply even more spin to the ball. Yonex also incorporated Namd* graphite into the throat of the new VCORE, providing more torque and flex for added spin potential.
Denis Shapovalov, the ATP 2017 "Star of Tomorrow" and youngest player in the Top 25**, will debut the new VCORE at the Washington Open. World. No.6** Caroline Garcia and two-time U.S. Men's Clay Court champion Steve Johnson will also begin competing with the new VCORE racquet this summer.
*Namd is a technology developed by Nitta Corporation to "uniformly disperse carbon nanotubes into carbon fiber composites."
**Per rankings as of June 24, 2018
INNOVATION
Accelerating Head Speed
New Aero Trench Technology and Upgraded Aero Fins
To achieve faster head speeds for increased spin potential, the new Aero Trench reduces drag by uniquely hiding the grommets located at the top of the racquet frame.
Aerodynamic fins that were featured in the VCORE SV have also been upgraded and positioned towards the bottom of the VCORE's frame. The new Aero Fins are strategically carved out sections that allow for improved maneuverability.
Ultimate Ball Pocketing
New Liner Tech Grommet Design
By dramatically reducing the string entry angles in select grommets, the outer main strings are elongated to produce a wider sweet spot, providing greater snapback. With added string movement, players can grab the ball to apply extra spin.
New Frame Shape and Graphite
By utilizing the next-generation Namd graphite and reducing the size of the yolk (blue area in the diagram), the new VCORE frame allows for more torque, applying more spin to the ball.
*Measurements made via swing machine, in comparison to conventional racquets
PLAYER BENEFIT
Faster racquet maneuverability
Drag reduced by an incredible 11%*
Increased spin
Ball and string contact up 6%*
▼
Spin increased by 7.3% to allow for high-velocity spin!
Yonex Racquet Technology
Original "Isometric" Theory
Developed over 30 years ago, the ISOMETRIC design increases the sweet spot by 7%.* Compared to a conventional round frame, a square-shaped ISOMETRIC racquet generates a larger sweet spot by optimizing intersecting main and cross strings.
*Tested by Yonex
---
Leave a comment