About Us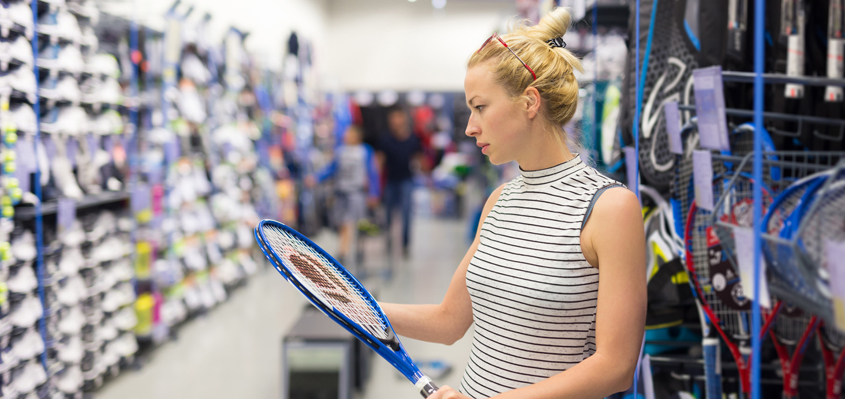 Tennis Direct is an Australian family owned and operated business.

We are passionate about tennis and are determined to offer competitive prices across our entire range, regardless of where you live across Australia. We pride ourselves on providing fast shipping and great customer service.

If you ever have a question, just contact us here or phone us on 1300 740 397 or 02 80639979 or 07 2417399 and we'll be delighted to assist you.
Natalie
Natalie is the Director of Tennis Direct Australia, yet she is the late bloomer of our Team when it comes to love of all things sport. With her Bachelor of Pharmaceutical Science and Masters in Pharmacy, Natalie had owned and managed multiple successful community pharmacies for almost 16 years. After adding a Diploma of Business Management and Certificate IV in Training and Assessment, along with multiple qualifications in mental health specialising in regional areas, she was looking for a new challenge.
Bringing her customer service background, focus on physical and mental health, strong retail acumen, analytical mind, and aptitude for online shopping, she has joined the Team with objectivity and enthusiasm.
Natalie is keen to develop her skills across new sectors, and her passion for equality and diversity across all demographics and abilities has been the impetus for many of our broader business strategies moving forward.
Michael
Mick is the founder, Manager and CEO of Tennis Direct Australia. Mick opened the business in late 2017 following other previous endeavors, including management of his family's electrical store, and establishing two highly successful eCommerce stores. Before entering the complex world of business, Mick completed a Bachelor of Marketing & Management at Griffith University. It was Mick's passion and foresight that identified the opportunity to start Tennis Direct, and he is just as passionate about it to this day. He simply loves tennis and sport, and working alongside like-minded people keeps him motivated.
Raised in a regional town as the youngest of 6 children and growing up in a family business, customer service focus is ingrained in this man. Outside of work, Mick is the President of the East Lismore Tennis Club, as well as member and past-President of the Alstonville/Wollongbar Chamber of Commerce. A capable stock-trader and self-proclaimed business podcast junkie, Mick is always keen to identify transferable skills and ideas to Tennis Direct. Reps, customers and staff would undoubtedly say that Mick is and will always be the heart of our business.
Mick aspires to further grow Tennis Direct through an interstate and potentially international expansion strategy, further extending the reach of the business, and improving the accessibility of the sport to the general public. Additionally, he hopes to use the business to improve the lives of kids living with cancer through a range of philanthropic efforts, with particular commitment to this cause based on personal lived experience.
Matt
Matt is Tennis Direct's Business Development Manager. Matt has been an integral addition to the Tennis Direct team as he provides over 12 years of experience in the Tennis Industry as well as many years specifically in the Tennis E-Commerce and Management industry.
Through coaching tennis all around the world to being a pillar in the operations of one of Australia largest Tennis companies, Matt has brought an extremely wide and diverse understanding of Tennis and the industry at large.
Currently finishing a Bachelors of Finance at Griffith University, Matt desires to increase his knowledge of financial and economic matters and how he can apply this to the Tennis and E-Commerce industry and is passionate in how he can contribute to make the sport as whole, larger and more inclusive around the world.
James
James is the social media/marketing manager, as well as the chief hype man at Tennis Direct, bringing life and energy to the workplace every day of the week. James has a wealth of experience in the tennis space, having worked in the industry for the last 5 years, in a retail and coaching capacity.
Outside of work, James is a business owner, and a cricket player for Wests Graceville in their premier side. Additionally, James has aspirations to be a superyacht captain in the future, traveling the world by sea, while making an exceptional living.
Aiden
Aiden is a final year student at QUT, studying a Bachelor of Business, with a major in finance, as well as a Bachelor of Property Economics, in a four year double-degree. Aiden has aspirations to enter the financial industry after completing his degree, ideally in an equities analyst role. A major goal of his is to work in London within the next few years, to experience new cultures, while gaining further traction in the financial industry.
Outside of study, Aiden has been heavily ingrained in tennis for almost a decade through tournament play and coaching. Now in a junior developer role at Tennis Direct, Aiden is applying his educational accumene to help grow the business.